Top 7 Romantic At-home Valentine's Day Ideas
Sometimes the happiest Valentine's Day comes from the simple things that happen every day – in your own home. Yes, you don't have to be all about going out to fancy restaurants and buying expensive gifts. You can actually have a lot more fun (and save money) by staying at home on Valentine's Day and getting creative. 
Here are some great at-home Valentine's Day ideas:
Enjoy Valentine's Day Breakfast in Bed
Valentine's day is a special day to celebrate love and affection. Why not start the day off right with a delicious breakfast in bed? This simple gesture on Valentine's Day gets a significant boost for couples.
Prepare your partner's favorite dishes on heart-shaped plates. Or you can make dishes with heart-shaped decor. Hot chocolate or cappuccino, for example, is decorated like two nested hearts. That will be the best special breakfast to express your love for one another.
Have a Picnic on At-home Valentine's Day
Instead of an outdoor picnic, you can still invite her to a picnic in the garden or the living room.
Let's recreate the scene of a picnic with a fruit basket. Spread out a blanket, make some sandwiches or finger foods, and enjoy each other's company. Or you can spread a towel and top it with tasty food and champagne for a romantic. Surely you will leave a mark on your partner's heart on Valentine's Day in this unique home.
Create Valentine's Day DIY Gifts for Each Other At Home
You can draw pictures, make postcards, or mold pottery together to express your wishes on this day. Put some thought into what your partner would appreciate. Each other will keep this Valentine forever as a souvenir.
Make Homemade Chocolates or Bake a Cake/Pie Together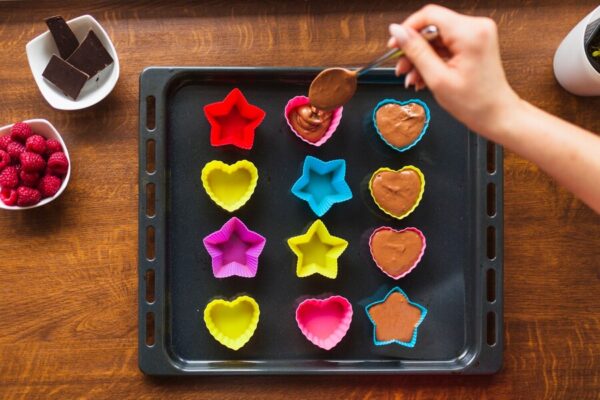 In addition to chocolate gifts, you can make chocolate dips, such as strawberries dipped in melted chocolate or cute small cakes. With this delicious treat, you'll have a sweet Valentine's evening at home.
Create a Relaxing Bath for Your Loved One on Valentine's Day
Fill your bathtub with bubbly water and rose petals. Add a few drops of lavender oil to melt away stress. After a bath, give each other massages or sheet masks with some of your favorite products. It will be a thoughtful way to pamper them and show them how much you care.
Cook a Special Dinner Together At Home
Try making tasty dishes together. Prepare your favorite wine or champagne. Make it extra romantic by setting the table with candles and flowers and playing some soft music. It would be far more comfortable and poetic to have a private space at home for the two of you than to eat in a luxurious restaurant.
Watch Romantic Movies At Home
After cooking a romantic dinner for two, is there anything cozier than snuggling up on the couch to watch one of your favorite movies on a cold Valentine's night? Of course, it is indispensable for popcorn and sweet candy bars.
Whether it's a first date or a long-term relationship, a fun and romantic at-home Valentine's Day celebration will still move the other person and give you a sweet memory.